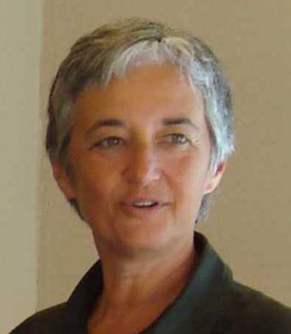 Vera Sacristán
Associate professor at UPC
Research area: Discrete Mathematics
PhD in Mathematics obtained at UPC
Biosketch
I started my research in computational geometry (CG) focusing on visibility algorithms, and I quickly expanded my interests to a variety of topics such as optimal facility location, Voronoi diagrams and Delaunay triangulations, and more generally proximity graphs and geometric graphs. I am also interested in CG solutions for controlling modular robots and dealing with geographic information. I have worked in the past and keep working now a days with many of the most prestigious members of the CG community. I currently serve in the editorial board of CGTA, one of the most important CG journals, and I have also served in the scientific committees of the most important CG conferences (SoCG, EuroCG, EGC). Visit my web site http://www-ma2.upc.es/vera for more details.
Research lines
Computational Geometry
Geometric Graphs
Geometric Algorithms for Robotics
Geometric Algorithms for Geographic Information.
Selected publications
Hurtado, E. Molina, S. Ramaswami, V. Sacristán, Distributed reconfiguration of 2D lattice-based modular robotic systems, Autonomous Robots 38(4):383-413, 2015.
Aichholzer, T. Hackl, A.Pilz, P. A. Ramos, V. Sacristán, B. Vogtenhuber, Empty triangles in good drawings of the complete graph, Graphs and Combinatorics 31(2):335-345, 2015.
Bose, S. Collette, F. Hurtado, M. Korman, S. Langerman, V. Sacristán, M. Saumell, Some properties of k-Delaunay and k-Gabriel graphs, Computational Geometry – Theory and Applications 46(2):131–139, 2013.
Buchin, A. Driemel, M. van Kreveld, V. Sacristán, Segmenting trajectories: A framework and algorithms using spatiotemporal criteria, Journal of Spatial Information Science 3:33-63, 2011.
Aloupis, S. Collette, M. Damian, E. D. Demaine, R. Flatland, S. Langerman, J. O'Rourke, V. Pinciu, S. Ramaswami, V. Sacristán, S. Wuhrer, Efficient Constant-Velocity Reconfiguration of Crystalline Robots Robotica 29(1):59-71, 2011.