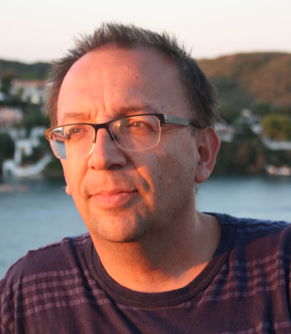 Pedro Delicado
Associate professor at UPC
Research area: Statistics
PhD in Economics obtained at Universidad Carlos III de Madrid
Biosketch
2000-present: Associate Professor, Universitat Politècnica de Catalunya.
1995-2000: Assistant Professor, Universitat Pompeu Fabra.
1990-1995: Teaching Assistant, Universidad Carlos III de Madrid.Three positive six-years evaluations by CNEAI. Accreditation as Full Professor by ANECA and AQU. I've advised four PhD students. More than 30 referred papers in scientific journals.
Research lines
Nonparametric Statistics
Functional Data Analysis
Multivariate Analysis
Dimensionality Reduction
Spatial Statistics
Selected publications
Delicado, P. and P. Vieu (2015) Optimal level sets for bivariate density representation. Journal of Multivariate Analysis. 140, 1-18. DOI:10.1016/j.jmva.2015.04.005.
Delicado, P., Hernández, A. and Lugosi, G. (2014) Data-based decision rules about the convexity of the support of a distribution. Electronic Journal of Statistics, 8, 96-129. DOI: 10.1214/14-EJS877.
Delicado, P. (2011) Dimensionality reduction when data are density functions. Computational Statistics and Data Analysis, 55 (1), 401-420. doi: 10.1016/j.csda.2010.05.008.
Delicado, P., Giraldo, R., Comas, C. and Mateu, J. (2010) Statistics for spatial functional data. Environmetrics. Volume 21, Issue 3-4, pages 224-239. (Abstract) doi: 10.1002/env.1003.
Delicado, P. (2006) Local likelihood density estimation based on smooth truncation. Biometrika, 93 (2) 472–480.