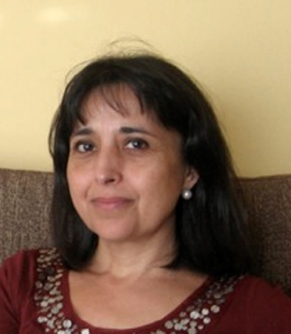 María Jesús Carro
Full professor at UB
Research area: Analysis
PhD in Mathematics obtained at UB
Biosketch
Full Professor of Mathematics at University of Barcelona.
Distinction of the Generalitat de Catalunya for the Promotion and University Research (2003).
Math Coordinator of ANEP (2005-2008).
Jury President of the José Luis Rubio de Francia Award (2009-2012).
President of the C3 Committee for the Centennial Celebration of the RSME (2010-2011).
President of the Accreditation Commission at CU-Ciencias de la ANECA (2015-).
Magazine editor at the Journal of Mathematical Analysis and Applications (2014-).
Research lines
Boundedness of operators in Harmonic Analysis
Interpolation theory
Extrapolation theory
Weighted spaces
Rearrangement invariant spaces
Selected publications
Carro, María J.; Grafakos, Loukas; Soria, Javier; Weightedweak-type (1,1) estimates via Rubio de Francia extrapolation. J. Funct. Anal.269 (2015), no. 5, 1203–1233.
Agora, Elona; Antezana, Jorge; Carro, María J.; Soria, Javier Lorentz-Shimogaki and Boyd theorems for weighted Lorentz spaces. J. Lond. Math. Soc. (2)89 (2014), no. 2, 321–336.
Carro, María J.; Tradacete, Pedro Extrapolation on Lp,∞(μ). J. Funct. Anal.265 (2013), no. 9, 1840–1869.
Carro, María J.; Rodríguez-López, Salvador On restriction of maximal multipliers in weighted settings. Trans. Amer. Math. Soc.364 (2012), no. 5, 2241–2260.
Carro, María J.; Raposo, José A.; Soria, Javier Recent developments in the theory of Lorentz spaces and weighted inequalities. Mem. Amer. Math. Soc.187 (2007), no. 877, xii+128 pp.