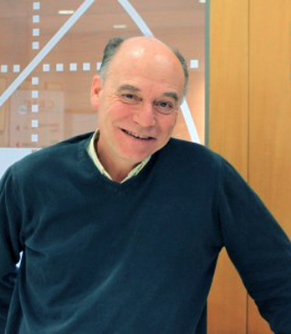 Joaquim Bruna
Full professor at UAB
Research area: Analysis
PhD in Mathematics obtained at UAB (1978)
Biosketch
I obtained my degree in Mathematics in 1975 at UB and finished my Ph.D. Thesis at UAB in 1978 under the supervision of Joan Cerdà. After postdoctoral positions in France and in the US I came back to UAB, where I am presently professor at the Mathematics Department.
You may find an updated CV here.
Research lines
Real Analysis
Function theiory in one and several variables
Harmonic Analysis
Global Analysis
Mathematical aspects of signal processing
Mathematical Consultancy
Selected publications
J. Bruna-J. Girbau, Mapping properties of the laplacian in Sobolev spaces of forms on complete hyperbolic manifolds, Annals of Global Analysis and Geometry, vol. 25 (2004), 151—176.
J. Bruna-A. Olevskii-A. Ulanovskii, Completeness of discrete translates in L1(R), Revista Matematica IberoAmericana, 22(2006), 1—16.
J. Bruna, On translation and affine systems spanning L1(R), Journal of Fourier Analysis and Applications, 12(2006), 71—82.
J. Bruna-J. Cufí, Complex Analysis, EMS Publishing House textbooks, 2013.
J. Bruna-J. Cufí-H.Führ-M. Miró, Characterizing Abelian Admissible groups, Journal of Geometric Analysis, 25(2015), 1045-1074.