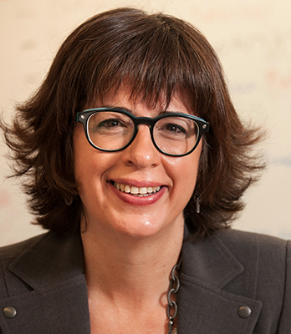 Helena Ramalhinho
Full professor at UPF
Research area: Computer Science
PhD in Operations Research obtained at Cornell University, New York, USA
Biosketch
Helena Ramalhinho Lourenço is an Full Professor (Professor Catedrático) at the Economics and Business Department at the University Pompeu Fabra, Barcelona (Spain). She has a B.A. and Master degree in Statistics and Operations Research from the University of Lisbon, Portugal, and a Ph.D. in Operations Research from Cornell University, New York, USA. Helena has published many articles in prestigious international scientific journals and has presented her work at international congresses and conferences. Helena teaches at various undergraduate, master's and PhD's programs. She is currently the director of the Business Analytics Research Group at UPF, and a researcher at the Centre for Operational Research at the University of Lisbon.
Research lines
Operations Research
Combinatorial Optimization
Metaheuristics
Supply Chain Management
Logistics and Operations Management
Selected publications
Grasas A., Juan, A.A. Faulin, J., De Armas, J. and Ramalhinho H. (2017), Biased Randomization of Heuristics using Skewed Probability Distributions: applications to routing and other problems, Computers & Industrial Engineering 110: 216–228. Doi: 10.1016/j.cie.2017.06.019.
Ferrer A., Guimarans D., Ramalhinho H.R. and Juan A.A. (2016), A BRILS Metaheuristic For Non-Smooth Flow-Shop Problems with Failure-Risk Costs, Expert Systems with Applications 4:177-186. doi:10.1016/j.eswa.2015.09.011.
Lourenço, H.R., Martin, O. and Stützle, T. (2010), Iterated Local Search: Framework and Applications. In Handbook of Metaheuristics, 2nd. Edition. Vol.146. M. Gendreau and J.Y. Potvin (eds.), Springer New York, International Series in Operations Research & Management Science, pp. 363-397. Doi: 10.1007/978-1-4419-1665-5_12. ISBN: 978-1-4419-1663-1.
Coelho V.N., Grasas A., Ramalhinho H., Coelho I.M., Souza M.J.F. (2016), An ILS-based Algorithm to Solve a Large-scale Real Heterogeneous Fleet VRP with Multi-trips and Docking Constraints, European Journal of Operational Research 250(2): 367-376. doi:10.1016/j.ejor.2015.09.047.
Grasas A., Juan, A.A. and Lourenço H.R. (2016), SimILS: A Simulation-based extension of the Iterated Local Search metaheuristic for Stochastic Combinatorial Optimization, Journal of Simulation 10(1), 69–77 doi: 10.1057/jos.2014.25.