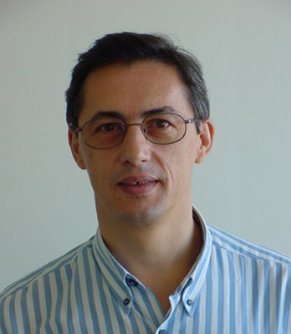 Francesc Marquès
Full professor at UPC
Research area: Mathematical Modelling
PhD in Physics obtained at UB
Biosketch
Head of the Fluid Dynamics Group at the UPC, Grup de qualitat de la Generalitat de Catalunya from 2005 (2014 SGR 1515), with the title 'Dinàmica de fluids: formació d'estructures i aplicacions geofísiques '
Chair of the Departament de Física Aplicada, UPC, from 2005 to 2011.
Member of the Comissió d'avaluació de Ciències de l'AQU, from 2011-2015, and head of this commission from 2013-2015.
Visiting professor at the Arizona State University since 1998.
Published more than 80 scientific papers in refereed journals, mainly in fluid dynamics, but also in relativity.
Supervisor of eight PhD thesis.
Organizer of two international meetings (XIII Taylor-Couette meeting, 2003 and
BIFD2011 – Bifurcations and instabilities in fluid Dynamics), and a Spanish conference, Nonlinear 2008.
Research lines
Fluid Dynamics
Dynamical systems and bifurcation theory
Numerical methods for PDEs
Selected publications
Marques, F. and Lopez, Juan M. Precession of a rapidly rotating cylinder flow: traverse through resonance, Journal of Fluid Mechanics, 782, 63-98 (2015)
Marques, F., Meseguer, A., Lopez, Juan M., Pacheco, J. R. and Lopez, Jose M. Bifurcations with imperfect SO(2) symmetry and pinning of rotating waves, Proceedings of the Royal Society A, 469, 2152 (2013)
Marques, F., Mercader, I., Batiste, O. & Lopez, Juan M. Centrifugal effects in rotating convection: Axisymmetric states and three-dimensional instabilities, Journal of Fluid Mechanics, 580, 303-318 (2007)
Marques, F., Lopez, Juan M. & Blackburn, H. M. Bifurcations in systems with Z2 spatio-temporal and O(2) spatial symmetry, Physica D 189, 247-276 (2004)
Marques, F., Lopez, Juan M. & Shen, J. Mode interactions in an enclosed swirling flow: A double Hopf between azimuthal wavenumbers 0 and 2, Journal of Fluid Mechanics, 455, 263-281 (2002)