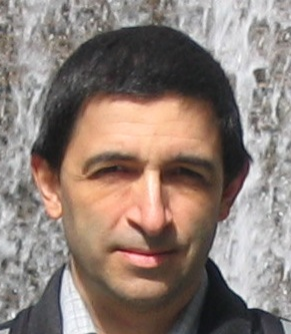 Enric Ventura
Associate professor at UPC
Research area: Algebra
PhD in Mathematics obtained at UAB (1995)
Biosketch
I got my PhD in Mathematics from the Universitat Autònoma de Barcelona in 1995. My primary area of research is Combinatorial and Geometric Group Theory. I have more than 40 research publications in my area, and I have spent several periods of my professional career in other mathematical institutions (mainly, 3 years at UAB-Barcelona, 13 months at CUNY-New York, 6 months at Nebraska-Lincoln, 5 months at CRM-Montréal, and a total of 22 months at CRM-Barcelona in several stays). I am the main researcher of our local research team in Barcelona (see http://www.grupsbcn.cat/), the vice-president of the Societat Catalana de Matemàtiques (SCM), and editor-in-chief of the Editiorial Board of the Centre de Recerca Matemàtica (CRM).
Research lines
Combinatorial and Geometric Group Theory.
Free groups: their lattice of subgroups, automorphisms and their fixed points.
Free-like structures: free-by-cyclic, free-by-free, HNN extensions, etc.
Solvability of algorithmic problems on groups.
Generic and asymptotic properties of groups,
Selected publications
F. Bassino, A. Martino, C. Nicaud, E. Ventura, P. Weil, "Statistical properties of subgroups of free groups", Random Structures and Algorithms 42 (2013), 349–373, doi: 10.1002/rsa.20407.
Bogopolski, A. Martino, E. Ventura, "Orbit decidability and the conjugacy problem for some extensions of groups", Transactions of the American Mathematical Society 362 (2010), 2003–2036.
Bogopolski, A. Martino, O. Maslakova, E. Ventura, "Free-by-cyclic groups have solvable conjugacy problem", Bulletin of the London Mathematical Society, 38 (5) (2006), 787–794.
N. Arzhantseva, J. Burillo, M. Lustig, L. Reeves, H. Short, E. Ventura, "Uniform non-amenability", Advances in Math., 197 (2) (2005), 499–522.
Martino, E. Ventura, "A description of auto-fixed subgroups in a free group", Topology 43 (2004), 1133–1164.