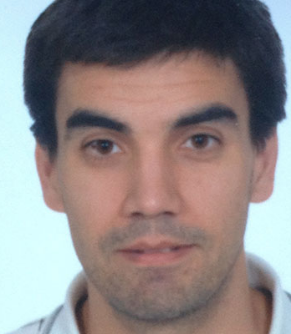 Arturo Vieiro
Lecturer at UB
Research area: Dynamical Systems
PhD in Mathematics obtained at UB (2009)
Biosketch
I finished PhD at UB in 2009. I am currently a Tenure-Track 1 Lecturer at UB. Previously I was a Non-tenured Teaching Assistant at UB, a postdoctoral researcher I-Math Future at UPC and a postdoctoral researcher at UB.
My research aims to develop global quantitative methods to understand phase space phenomena of dynamical systems.
Research lines
Dynamical systems
Hamiltonian dynamics and perturbations
Splitting of separatrices and chaos
Strange attractors
Numerical methods.
Selected publications
N.Míguel-Baños, C.Simó and A.Vieiro. Effect of Islands in Diffusive Properties of the Standard Map for Large Parameter Values. Foundations of Computational Mathematics, 2014.
S.Gonchenko, C.Simó and A.Vieiro. Richness of dynamics and global bifurcations in systems with a homoclinic figure-eight. Nonlinearity 26(3): 621–679, 2013.
V.Gelfreich, C.Simó and A.Vieiro. Dynamics of 4D symplectic maps near a double resonance. Physica D, 243(1): 92–110, 2013.
C.Simó and A.Vieiro. Dynamics in chaotic zones of area preserving maps: close to separatrix and global instability zones. Physica D, 240(8): 732–753, 2011.
C.Simó and A.Vieiro. Resonant zones, inner and outer splittings in generic and low order resonances of area preserving maps. Nonlinearity 22(5):1191–1246, 2009.