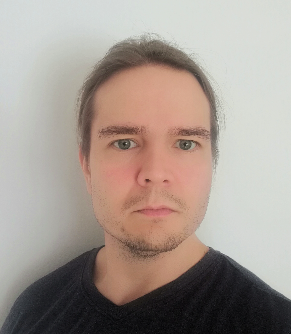 Antti Perälä
at BGSMath - UB
Research area: Analysis
PhD in Mathematics obtained at University of Helsinki (2011)
Biosketch
I am a senior postdoctoral researcher working in the Analysis group of the University of Barcelona. My position is funded by BGSMath.
I got PhD in 2011 at the University of Helsinki, where my advisors were Jari Taskinen and Jani Virtanen. Since then, I have worked as a postdoc in Helsinki, Stockholm and Joensuu, and now in Barcelona.
I am interested in operator theory in function spaces. More precisely, I am working on analytic Hardy and Bergman spaces and their operators, as well as applications to other areas of mathematics.
Research lines
Complex Analysis
Operator Theory
Functional Analysis
Selected publications
Perälä, A., Vanishing Bergman kernels on the disk, The Journal of Geometric Analysis (to appear).
Perälä, A.; Rättyä, J., Duality of weighted Bergman spaces with small exponents, Annales Academiae Scientiarum Fennicae Mathematica, Volumen 42, (2017), 621--626.
Astala, K.; Ivrii, O.; Perälä, A.; Prause, I., Asymptotic variance of the Beurling transform, Geometric and Functional Analysis, 25, (2015), no. 6, 1647--1687.
Perälä, A., On the optimal constant for the Bergman projection onto the Bloch space, Annales Academiae Scientiarum Fennicae Mathematica, Volumen 37, (2012), 245--249.
Perälä, A.; Taskinen, J.; Virtanen, J., Toeplitz operators with distributional symbols on Bergman spaces, Proceedings of the Edinburgh Mathematical Society, Volume 54, Issue 02, (2011), 505--514.