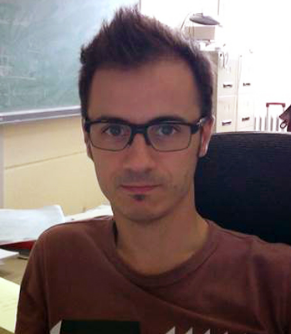 Albert Clop
PhD in Mathematics from UAB (2006)
UAB
Research areas: Analysis
I graduated in Mathematics in 2001 at Universitat de Barcelona. In 2006, I got a PhD in Mathematics at Universitat Autònoma de Barcelona, under the supervision of Dr. Joan Mateu and Dr. Joan Orobitg. Later I went through 2,5 years of postdoctoral training at University of Helsinki, University of Jyväskylä and Universidad Autónoma de Madrid.
In 2010 I became a "Ramón y Cajal" researcher. I am currently the local coordinator at UAB of the Marie Curie ITN "MAnET" as well as the coordinator of the Barcelona Analysis Seminar.
Research lines
Geometric Function Theory
Partial Differential Equations
Harmonic Analysis
Geometric Analysis
Complex Analysis
Selected publications
K. Astala, A. Clop, D. Faraco, J. Jääskeläinen, "Manifolds of quasiconformal mappings and the nonlinear Beltrami equation", submitted for publication.
A. Clop, R. Jiang, J. Mateu, J. Orobitg, "Linear transport equations for vector fields with sub-exponentially integrable divergence", to be published at Calc. Var. & PDE.
A. Clop, V. Cruz, "Weighted estimates for Beltrami equations", Ann. Acad. Sci. Fenn. Math. 38 (2013), 91-113.
A. Clop, D. Faraco, A. Ruiz, "Stability of Calderón inverse conductivity problem in the plane for discontinuous conductivities", Inverse Probl. Imaging 4 (2010), no. 1, 49-91.
K. Astala, A. Clop, J. Mateu, J. Orobitg, I. Uriarte-Tuero, "Distortion of Hausdorff measures and improved Painlevé removability for bounded quasiregular mappings", Duke Math. J. 141 (2008), no. 3, 539-571.