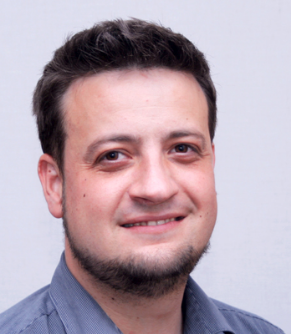 Sergio Escalera
Associate professor at UB
Research area: Statistics / Computer Science
PhD in Computer Science obtained at UAB (2008)
Biosketch
P.h.D. degree on Multi-class visual categorization systems at Computer Vision Center, UAB. 2008, obtaining the best Thesis award on Computer Science at Universitat Autònoma de Barcelona. I lead the Human Pose Recovery and Behavior Analysis Group at UB and CVC. I am a member of the Visual and Computational Learning consolidated research group of Catalonia. I am also a member of the Computer Vision Center at Campus UAB. I am Editor-in-Chief of American Journal of Intelligent Systems and editorial board member of more than 5 international journals. I am advisor and director of ChaLearn Challenges in Machine Learning. I am co-founder of PhysicalTech company. I am an active member of the Cluster de Salud Mental de Cataluña. I am also member of the AERFAI Spanish Association on Pattern Recognition, ACIA Catalan Association of Artificial Intelligence, and I am vice-chair of APR TC-12: Multimedia and visual information systems. I have different patents and registered models. I have published more than 150 research papers and organized scientific events, including CCIA2004, CCIA2014, ICCV2011, and workshops at ICCV2011, ICMI2013, ECCV2014, CVPR2015, ICCV2015. I have been guest editor at JMLR and TPAMI.
Research lines
Statistical pattern recognition
Visual object recognition
HCI systems, (with special interest in human pose recovery and behavior analysis from multi-modal data)
Selected publications
Miguel Angel Bautista, Antonio Hernandez-Vela, Sergio Escalera, Laura Igual, Oriol Pujol, Josep Moya, Veronica Violant, and Maria Teresa Anguera, A Gesture Recognition System for Detecting Behavioral Patterns of ADHD, System Man and Cybernetics, Part B, 2015.
Daniel Sánchez, Miguel Ángel Bautista, and Sergio Escalera, HuPBA 8k+: Dataset and ECOC-GraphCut based Segmentation of Human Limbs, Neurocomputing, 2014.
Oscar Lopes, Miguel Reyes, Sergio Escalera, and Jordi Gonzàlez, Spherical Blurred Shape Model for 3-D Object and Pose Recognition: Quantitative Analysis and HCI Applications in Smart Environments, IEEE Transactions on System Man and Cybernetics, Part B Cybernetics, 2014.
Sergio Escalera, Oriol Pujol, and Petia Radeva, On the Decoding Process in Ternary Error-Correcting Output Codes, Transactions in Pattern Analysis and Machine Intelligence, vol. 32, issue 1, pp. 120-134, IEEE Computer Society, New York, ISSN 0162-8828, 2010.
Sergio Escalera, David Tax, Oriol Pujol, Petia Radeva, and Robert Duin, Subclass Problem-dependent Design of Error-Correcting Output Codes, vol. 30, issue 6, pp. 1041-1054, IEEE Transactions in Pattern Analysis and Machine Intelligence, IEEE Computer Society, Los Alamitos, ISSN 0162-8828, 2008.