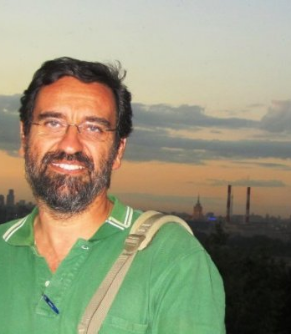 Josep Vives
Associate professor at UB
Research area: Probability
PhD in Mathematics obtained at UB (1994)
Biosketch
1994: PhD at the UB under the supervision of Professor David Nualart.
1996-2005: Associate professor at Universitat Autònoma de Barcelona (UAB).
Since 2005: Associate professor at Universitat de Barcelona (UB).
Since 2009: Vicedean of Postgraduate Studies and Research of the Faculty of Mathematics, UB.
Since 2010: Member of the Institut de Matemàtiques de la Universitat de Barcelona (IMUB) and member of its Direction Council.
Research lines
Stochastic Analysis
Quantitative Finance
Empirical Finance
Probability
Statistics
Selected publications
J. León, D. Márquez, J. Vives (2012): Anticipating Linear Stochastic Differential Equations Driven by a Lévy Process. Electronic Journal of Probability 17, no. 89: 1–26. ISSN: 1083-6489 DOI: 10.1214/EJP.v17-1910
H. Jafari and J. Vives (2013): A Hull and White formula for a stochastic volatility Lévy model with infinite activity. Communications on Stochastic Analysis 7 (2): 321-336
J. León, J. L. Solé, F. Utzet, J. Vives (2014): "Local Malliavin Calculus for Lévy Processes and Applications". Stochastics: An International Journal of Probability and Stochastic Processes 86 (4): 551-572.
A. Gulisashvili, J. Vives (2015): Asymptotic analysis of stock price densities and implied volatilities inmixed stochastic models. SIAM Journal on Financial Mathematics 6: 158-188.
E. Alòs, R. De Santiago and J. Vives (2015): "Calibration of stochastic volatility models via second order approximation: the Heston case". To appear in International Journal of Theoretical and Applied Finance.