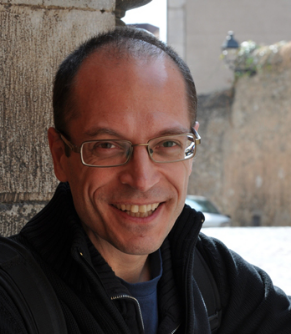 Josep Elgueta
Associate professor at UPC
Research area: Algebra
PhD in Mathematics obtained at UPC (2002)
Biosketch
I graduated in Physics in 1988 in the Universitat de Barcelona and in Mathematics in 1997 in the same University. I got my PhD in Mathematics in 2002, under the advise of Louis Crane, from Kansas State University, and Sebastià Xambó, from the Universitat Politècnica de Catalunya. I am associate professor in this University since 2007.
Research lines
Categorical and higher categorical structures, in particular higher dimensional algebra.
Selected publications
Cohomology and deformation theory of monoidal categories, Advances in Mathematics 182 (2004), 204-277.
Representation theory of 2-groups in Kapranov and Voevodsky 2-vector spaces, Advances in Mathematics 213 (2007), 53-92.
Generalized 2-vector spaces and general linear 2-groups, Journal of Pure and Applied Algebra 191 (2008), 123-164.
On the regular representation of an (essentially) finite 2-group, Advances in Mathematics 227 (2011), 170-209.
Permutation 2-groups I: structure and splitness, Advances in Mathematics 258 (2014), 286-350.