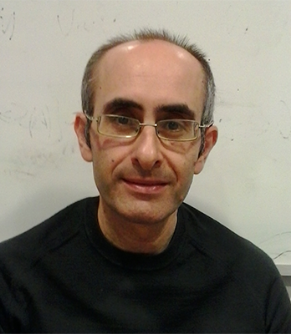 Jordi Villanueva
Associate professor at UPC
Research area: Dynamical Systems
PhD in Mathematics obtained at UPC
Biosketch
I received my PhD in mathematics from Universitat Politècnica de Catalunya under the supervision of Prof. Àngel Jorba.
Research lines
KAM Theory for Hamiltonian Systems and Symplectic Maps.
Numerical Methods in Dynamical Systems.
Selected publications
A new Approach to the Parameterization Method for Lagrangian Tori of Hamiltonian Systems, J. Villanueva, Journal of Nonlinear Science, 27 (2017), pp. 495-530.
Quasi-Periodic Frequency Analysis using Averaging-Extrapolation Methods, A. Luque, J. Villanueva, SIAM Journal on Applied Dynamical Systems 13 (2014) pp. 1-46.
Kolmogorov Theorem Revisited, J, Villanueva, Journal of Differential Equations 244 (2008) pp. 2251-2276.
KAM Theory without Action-Angle Variables, R. de la Llave, A. González-Enríquez, À. Jorba, J. Villanueva, Nonlinearity 18 (2005) pp. 855-895.
Normal-Internal Resonances in Quasi-Periodically Forced Oscillators: a Conservative Approach, H. Broer, H. Hanßmann, À. Jorba, J. Villanueva, F. Wagener, Nonlinearity 16 (2003) pp. 1751-1791.