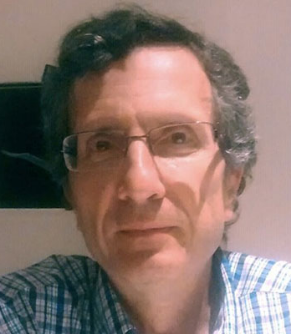 Joan Carles Tatjer
Associate professor at UB
Research area: Dynamical Systems
PhD in Mathematics obtained at UB (1990)
Biosketch
Research fellow of the Spanish Ministery of Science and Education 1983-1986.
Adjunct lecturer, Universitat de Barcelona: 1986-90.
Associate professor from 1990.
Award of the 1990 Ph, D, in Mathematics with special distinction, Universitat de Barcelona.
His main scientific achievement is the analytic and numerical description of models of return maps near a homoclinic tangency in dimensions two and three.
Research lines
Discrete Dynamical Systems, and in particular:
Homoclinic tangenciues
Periodic, quasiperiodic and strange attractors.
Quasiperiodically forced systems.
Selected publications
Three-dimensional dissipative diffeomorphisms with homoclinic tangencies. Ergodic Th. & Dynam. Sys. 21, 249-302 (2001).
Dynamcs near homoclinic bifurcations of three-dimensional dissipative diffeomorphisms (joint with A. Pumariño), Nonlinearity, 19, 2833-2852 (2006)
Old and new results on strange nonchaotic attractors (joint with A. Jorba, C. Nuñez, R. Obaya). Int. J. of Bifurcation and Chaos, 17, 3895-3928 (2007)
Chaotic dynamics for two-dymensional tent maps (joint with A. Pumariño, J. A. Rodríguez, E. Vigil). Nonlinearity, 28, 407-434 (2015)
A renormalization operator for 1D maps under quasiperiodic pertorbations. Nonlinearity, 28, 1017-1042 (2015)