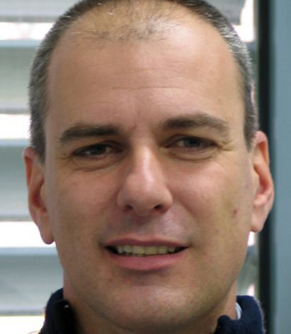 Jaume Franch
Associate professor at UPC
Research area: Mathematical Modelling
PhD in Mathematics obtained at UPC (1999)
Biosketch
Bachellor in Mathematics by University of Barcelona (1992) and PhD in Mathematics by Universitat Politecnica de Catalunya-BarcelonaTech (1999). Lecturer at UPC from 1993 to 2002. Associate Professor at UPC from 2002 up to now.
Several stays as visiting Professor at University of Delaware (Department of Mechanical Engineering) and Columbia University. Sofware and simulation award by ASME Design Engineering Division (2007).
Research lines
Control Theory
Differential Geometric Methods
Robotics
Linearization of Nonlinear Systems
Selected publications
K. Pathak, J. Franch, and S. K. Agrawal, "Velocity and Position Control of a Wheeled Inverted Pendulum by Partial Feedback Linearization", IEEE Transactions of Robotics and Automation, Vol. 21, No. 3, 2005, 505-513.
J. Franch and S. K. Agrawal, "Design of Differentially Flat Planar Space Robots: A Step Forward in their Planning and Control", International Journal of Control, vol. 83, pp. 829-836. 2010.
S. K. Agrawal, K. Pathak, J. Franch, R. Lampariello, G. Hirzinger, "Design of a Differentially Flat Open-Chain Space Robot with Arbitrarily Oriented Joints and Two Momentum Wheels at the Base", IEEE Transactions on Automatic Control, vol. 54, pp. 2185-2191. 2009.
Jaume Franch, Sunil K. Agrawal, VivekSangwan: "DifferentialFlatness of a Class of Planar n-DOF Robot ManipulatorsDrivenby 1 or 2 Actuators". IEEE TransactionsonAutomatic Control 55/2, 548-554. 2010.
C. Zhang, J. Franch, S.K. Agrawal, "Differential flat design of a closed-chain planar under-actuated 2 DOF system", IEEE Transactions on Robotics 29(1), pp. 277-282, 2013.