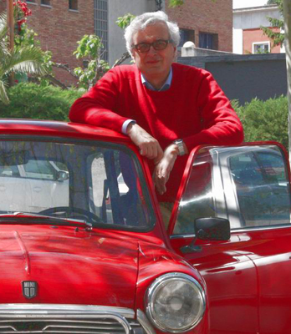 Eduardo Casas-Alvero
Full professor at UB
Research area: Geometry / Algebra
PhD in Mathematics obtained at UB
Biosketch
Professor at the Department of Àlgebra i Geometria de la Universitat de Barcelona since 1979.
Research lines
Algebraic geometry
Singularities
Selected publications
Casas-Alvero, E. Singularities of Plane Curves, London Math. Soc. Lect. Notes Series, pp. xv + 345, Cambridge University Press, Cambridge, UK, 2000. ISBN: 0521-78959-1.
Casas-Alvero, E., Higher Order Polar Germs, Journal of Algebra, 240, pp. 326-337, 2001, ISSN: 0021-8693.
Casas-Alvero, E., Local geometry of planar analytic morphisms, Asian Journal of Mathematics, 11, pp 373-426, 2007, ISSN: 1093-6106.
Casas-Alvero, E., Roots of complex polynomials and foci of real algebraic curves, L'Enseignement Mathématique, 58 pp. 223-248, 2012.
Casas-Alvero, E, Syzygies and projective generation of plane rational curves, Journal of Algebra 427, pp 183-214, 2015.